BIOGRAFIA (

versione italiana )
Fabio Pirazzi began his career in 1973, working with local TV broadcasters as stage designer. Along the way he was able to make significant experience working with several directors of photography, from which it will learn the technique and passion for the highlights of the show.
At the same time he begins to enter the world of sound and lighting services, when the international stage is occupied by the great concerts that are changing the world of music. In Italy in this period the greatest bands require a large number of technicians to prepare their shows, and this provides a great opportunity for professional growth in the field of lighting.
The field of lighting will reveal its greatest vocation: photography. In fact, it was useful to take pictures of the lights on the stage to be able to remember and reproduce them in subsequent concerts, and from this activity - complementary for him - he discovered the passion for photography, which today is still alive as in his prime.
Also practicing backstage has the opportunity to capture hundreds of artists and celebrities from the world of entertainment and music,during their performances and in backstage, taking shots of incredible artistic and documentary value.
He shot great pictures to artists like Led Zeppelin, Jethro Tull, Genesis, Carlos Santana, Deep Purple, Emerson Lake and Palmer and almost all the biggest names in the Italian landscape. In a few years he built an outstanding photographic portfolio, which leads him to establish numerous contacts with photo agencies and take the decision to become a professional photographer.
Freelance photojournalist, he worked for the newspaper "Il Messaggero" for 38 years, from March 1975 to September 2013.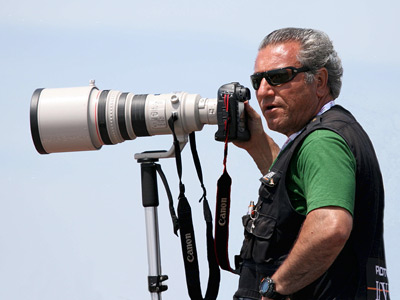 On behalf of photojournalism magazines he worked on assignment at concerts of Pink Floyd, Phil Collins, Ray Charles, James Brown, Bruce Springsteen, Iron Maiden, Scorpions, AC / DC, Steve Vai, Deep Purple, Eric Clapton, Vasco Rossi, Ligabue , Mango, Elisa, The Nomads, Pino Daniele, James Senese, PFM, Banco del Mutuo Soccorso, Negrita, Stadium, Steve Roger Band, Vinicio Capossela and many others. In 2000 he received the award for best sports photo sequence of the U.S. Photo Press Agency.
He is professional journalist. He is graduated from art school and he perfected the photographic technique at the School of Italian photography.
He is specialized in live concert photography, reportage and sports photography, where he express his best attitude.
---
© 2013 Fabio Pirazzi - All Rights Reserved